As we move towards developing styles for the upcoming Summer '24, it is best to keep in mind the harsh summer sun which reflects on the choices we all make for our everyday wear. When it comes to crafting trousers and shorts that seamlessly blend style and comfort, woven cotton-based fabrics emerge as the undeniable champions.
Let us embark on a journey through the world of woven cotton textiles, exploring the exquisite range of options that Garment Resources offers for creating the perfect summer trousers and shorts.
Cotton Poplin:
Cotton poplin, often referred to as "poplin weave," is a quintessential choice for crafting summer trousers and shorts. With its smooth texture and crisp drape, poplin fabric exudes an air of sophistication. The tightly woven, plain weave structure ensures durability and breathability, allowing air to circulate freely, keeping you cool even on the hottest days. Poplin trousers and shorts are versatile essentials that seamlessly transition from casual outings to semi-formal gatherings.
Cotton Twill:
Cotton twill weaves introduce a touch of texture and depth to your summer wardrobe. This durable and comfortable fabric offers a subtle diagonal pattern, resulting in an elegant yet relaxed appearance. Twill trousers and shorts embody a refined casualness that complements a range of occasions, from leisurely brunches to evening strolls along the beach.
Cotton Chambray:
For those seeking an effortlessly chic vibe, cotton chambray fabric is a delightful option. This lightweight and breathable material is distinguished by its plain weave with a white weft and colored warp threads, lending a subtle yet captivating visual texture. Chambray trousers and shorts capture the essence of relaxed elegance, making them an ideal choice for leisurely summer days.
Cotton Denim:
Denim, a perennial favorite, takes on a lighter and more breathable form in summer trousers and shorts. Woven from cotton fibers, summer denim retains the durability of its classic counterpart while allowing for improved comfort in warmer weather. The timeless appeal of denim trousers and shorts effortlessly pairs with a range of tops, ensuring a stylish and adaptable summer ensemble.
Cotton Linen Blend:
While not pure cotton, a cotton-linen blend is worth mentioning due to its exceptional breathability. Linen is mixed with cotton to create a fabric that combines the best of both worlds: the softness of cotton and the cooling properties of linen. Cotton-linen blend trousers are comfortable and have a slightly more relaxed drape.
Cotton Drill:
Cotton drill fabric is a sturdy and durable option for summer trousers. It features a diagonal weave pattern similar to twill, but it is often heavier and more structured. While not as lightweight as some other options, cotton drill trousers are suitable for slightly dressier occasions and can withstand more rugged activities.
Cotton Sateen:
Cotton sateen is a smooth and lustrous fabric with a slight sheen. While it's not as breathable as some other cotton weaves, it can still be a viable option for summer trousers, especially for more formal events. Sateen trousers offer a polished appearance and a touch of elegance.
Cotton Voile:
Cotton voile is an ultra-lightweight and semi-sheer fabric that provides excellent breathability. While it might not be the most common choice for trousers, it can work well for relaxed and beachy summer styles, creating a breezy and carefree look.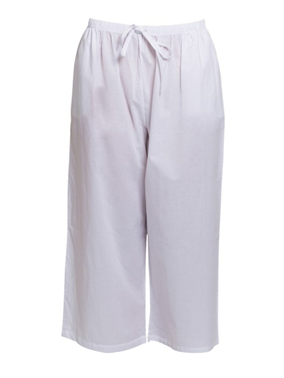 Pima Cotton:
Pima cotton, known for its exceptional softness and durability, It is softer than regular cotton and resistant to common issues like fraying, tearing, and general wear and tear. The luxurious fabric offers a refined appearance and a smooth feel against the skin. Pima cotton trousers and shorts embody a luxurious casualness, making them an excellent choice for upscale summer gatherings and events.
Do you know, that Garment Resources offers much more than just woven trousers? Our portfolio includes a wide range of casual garments and even workwear products. And what's best, we offer very flexible quantities for smaller brands and companies, or bigger ones who'd like to test the waters first J
For more information about the styles we offer, the MOQs and pricing, please write to us at info@garesources.net